A staircase and a ramp are both OK!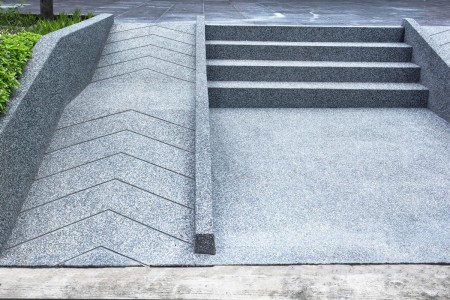 A perfect world?
We would all love it if we lived in a world where every website or web portal was completely accessible to everyone, regardless of their ability or disability, wouldn't we?
Sometimes it cannot be done.
A recent audit
We have recently finished an audit of a web portal. There was a questionnaire that had to be filled in, before any of the modules could be started. The number of questions varied, with anything from 16 up to over 80. There were 5 possible responses to each question.
It was coded so that the current question was displayed in an attractive box. The previous question was above it, the next question was below it. These were both shown in a more opaque manner. After each one was completed, it visually moved up and the next question became active. It looked really nice.
Sadly, not accessible
The problem was that it was not accessible. Iona, who uses a screen reader, could not operate it at all. Mede, Krista and Lleona, who all use screen readers, could use it, after a fashion but each question had 6 responses instead of 5. One of them was empty and hidden because it was necessary to allow it to operate but it became rather tiring with a screen reader, after a while.
On top of that, the question to be answered was not actually read out by the screen reader in the first place. If I had not told them they were there, they would not have known what the question was. After a while, they figured it out but it was all a bit clumsy.
The client asked about an alternative
The client asked if it was acceptable to have a simpler text-only version offered as an alternative, which I was happy to confirm. I also said that, by offering this as an alternative for everyone, it may also be used by other people who found any kind of movement of the screen distracting.
They said that they can do this quickly, so everyone will be benefiting from it much sooner than otherwise!
Having a lift next to a staircase is a good thing! They do not have to be mutually exclusive!
Caption: a concrete ramp next to a concrete staircase on a University campus
Would you like to find out more?
If you would like to find out more about website accessibility, please follow these links:
Watch my TED Talk
Find out more about website accessibility audits
Discuss having an accessibility audit of your website
Have a 1-hour consultation on any aspect of website accessibility
Clive Loseby
Access by Design
Beautiful, WCAG Compliant, Accessible Website Design
Delivering an Outstanding Website Accessibility Audit
Award-winning Web Design, Chichester
Related posts