What Colour Scheme is Best for My Website?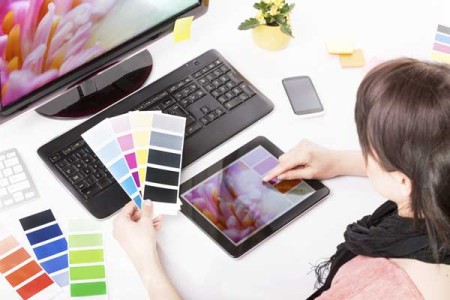 Your website is in its most basic terms a public online resume for potential clientele, and that being said it is vital that your website outshines your competitors. Creating a responsive accessible design for your website is key and content is obviously important but what colour scheme you choose will likely also determine if your site visitors will take the time to view it. There can be a frustratingly fine line between too much and too little that can be maddening when choosing the right colour scheme to attract the potential clients your are looking for. Here are a few basic starters to build on.
Build Around Your Logo
If your business has a logo (as it should) then it is important to start your colour scheme based on the colours in your logo. A bold background will do anything but highlight your business logo. That's not to say that the colour scheme of your website has to match your logo colour for colour, but at the very least pick your logos most dominant colour and work from there. Remember as important as your logo's eye appeal is. it's the overall appeal of your website that should be your main focus.
Basic Colour Pallette
Using too many colours can be distracting to your website visitors, and a busy colour scheme can look disorganised and messy. If you are having issues finding colour schemes that work together to your liking then try starting with your favourite primary colour. Your web design in sussex team should be able to guide you on colours that go with it.
If for example you like the colour blue or if blue is in your company logo then you can build your scheme from a navy shade of blue in the background and highlight the content with whites and powder or baby blue accents. If you want your website to have a basic bold look then use the lighter primary colour on the background and use darker shades and black to showcase your content.
Minimalist
This may seem contradictory as far as accessible website designs are concerned, but there is a wide variety of ways to utilise a minimalist layout. Neutral colours are not particularly eye appealing on their own, but something as simple as a shock of colour can change the entire dynamic of the look.
A pale yellow or blue grey background with a small shock of colour can give your page a sophisticated elegance that will appeal to all manner of visitors, and when paired right can give a very mature and professional look.
Does it Appeal to your eye?
Whatever experience you have with websites, we aren't all that different from one another in terms of what we considered an attractive and well laid out website. If your bias to your brand makes you unsure if you do in fact have a website with a responsive and accessible design then start surfing the web for similar themed sites to yours, and take note of the features on the competitors sites that stand out to you. If you love the layout of your page, chances are potential visitors will as well.
Related posts