Please do not use Filenames as Alt Text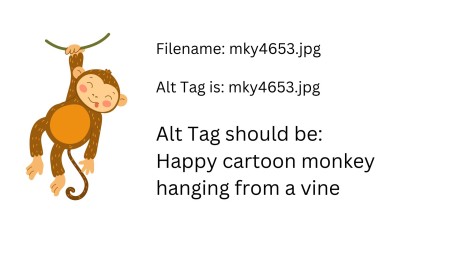 Hopefully, most of us have heard of Alt Text and how important it is. It is used to provide a description of an image, to allow blind people to make sense of what the image is. It is possible to create this easily when you upload an image to a website. It is also one of the most common accessibility fails that I come across in my website accessibility audits.
Most automated accessibility checkers will pick this up however the free tools will usually just check for the presence of Alt Text, regardless of what it is.
After an image is uploaded, many platforms will automatically generate the Alt text from the filename. The problem is that the filename will usually bear little relation to the image, particularly if it has been taken on a smartphone.
Although it may pass a quick automated check, it still fails Accessibility Guidelines (WCAG) and someone using a screen reader will still not know what the image is.
Please make sure your Alt Text describes what is going on in the image. It doesn't take long, and it makes all the difference to blind people because it tells them that you have thought about them.
Caption: A happy cartoon monkey is hanging from a vine. The text reads: "Filename: mky4653.jpg", "Alt Tag is: mky4653.jpg", "Alt Tag should be: Happy cartoon monkey hanging from a vine"
Clive Loseby
Access by Design
Beautiful, WCAG Compliant, Accessible Website Design
Delivering an Outstanding Website Accessibility Audit
Award-winning Web Design, Chichester
Related posts