"We don't allow Alt text"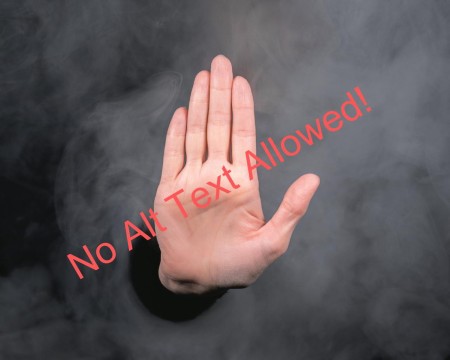 An extensive digital accessibility review
I was talking to one of my clients yesterday that I had done a large piece of work for at the start of the year, helping them with the digital accessibility of their 5 websites. They are a wonderful organisation with a real passion for the inclusivity of disabled people. Their agency has been on a vertical learning curve since and I have been absolutely delighted with their progress so far!
My Team and I will be revisiting their websites soon, including two new ones that will be going live this Summer.
Issues with the online shop
One of the main challenges was with their eCommerce store. It was licensed by a 3rd party. One of the issues that came up in our audit was the fact that the product images lacked Alt Tags. This meant that it was not possible for blind people using screen readers to know what the images looked like.
Not allowed!
My client has asked the eCommerce provider about this and was told that Alt Text was not allowed. Not even "that isn't something we currently provide but we are looking into it", just that it was not allowed.
Gosh. That is rather a blunt answer.
The eCommerce provider may find out rather quickly that this is something they need to address, I hope they do!
Obviously, my client is looking at switching to another provider as soon as possible but these things are never easy to do.
Have you had a similar experience? I would love to hear about it.
Caption: A hand coming out of a wall, palm outwards. Text reads No Alt Text Allowed!
Would you like to find out more?
If you would like to find out more about website accessibility, please follow these links:
Watch my TED Talk
Find out more about website accessibility audits
Discuss having an accessibility audit of your website
Have a 1-hour consultation on any aspect of website accessibility
Clive Loseby
Access by Design
Accessible Websites, Beautifully Designed
Always Delivering an Outstanding Website Accessibility Audit
Award-winning Web Design, Chichester
Related posts