Earth Seed to Bloom launch their new website on Valentine's Day!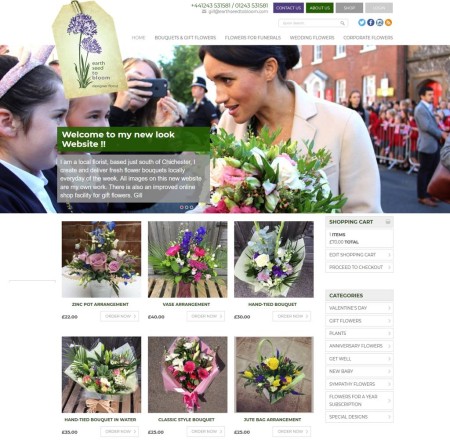 A Local Independent Florist
Earth Seed to Bloom is a wonderful, independent florist that have been our client for many years. It is owned by Gill Powell-Jones and she has an excellent reputation for creating some simply wonderful floral arrangements.
Her previous website was a bespoke design and build, although it was built several years ago. It had a simple ordering system linked to PayPal buttons, which was much more cost-effective to build that a full e-commerce facility. However, one of the drawbacks with customers not being able to create their own accounts was that it decreased the likelihood of returning visitors because, as we all know, you only really want to put your details into a website once.
Another Run Your Own Website!
You may of heard of Run Your Own Website? This, in effect, is one of our bespoke websites that has been turned into an "off the shelf", which gives our clients the same build quality but for a much lower cost. We have already launched two e-commerce sites with it and with Gill, we jumped at the opportunity to create something that we think is rather lovely. It is an Option 5 Run Your Own Website and all of the photos on it are Gill's own creations. Gill has been working with the website over recent weeks, updating all the content as well as getting ready for her next big event in any florist's calendar – Mother's Day!
Right photo at the right time!
You may not be aware but the Duke and Duchess of Sussex came to visit Chichester recently and Gill was able to take a photo of Meghan Markle who just happened to be holding a bunch of her flowers! It's a wonderful photo and looks great on her website!
If you're looking for a fantastic local florist, then look no further than Earth Seed to Bloom! You can see her website by following this link: https://www.earthseedtobloom.co.uk/
If you are interested to see how we may be of service to you, why not give us a call on 01243 776399? We would love to talk to you!
Clive Loseby
Access by Design / Run Your Own Website
Award winning web design, Chichester.
Related posts