Case Study – Vetlab Supplies Ltd
As a follow up to my last post on what Google is looking for, here is a case study about how it is actually worked in practice for one of our clients and literally turned around their business!
Vetlab Supplies Ltd supply consumables, diagnostic test kits and equipment to veterinary laboratories, mostly in the UK. It is a business to business operation; they do not sell directly online. Their potential customer base in the UK is in the low thousands and, when we first met them, they explained that their existing website was just not bringing any new customers in. Their customer retention is high because of their excellent customer service and the quality of the products that they supply.
We analysed their website and found it to be coded to an extremely low standard. It had only been live for a few months but it was coded with techniques that were out of date by several years. They found updating it to be extremely difficult, if not impossible and they were just not getting any ongoing support from the website designer.
We had several meetings with them and were able to slowly build trust and confidence, to the point where they commissioned a new website from us. They were not interested at the point in having any kind of Google campaign; they just wanted to have a strong, well-built website that they could run themselves.
Fiona Sturgess, who has been working for Vetlab Supplies for some years, has got a strong background in marketing and had been extremely frustrated that she did not have the tools to use her skills, however she found being able to have a website that she could manage herself to be a major step forward for her.
Although all of our clients have access to Getty Images (with whom we have a licence), very little of them were used with this website. Veterinary products are not perhaps particularly interesting but Fiona put her considerable photographic skills to use and showed a great deal of creativity: all of the product images on the website were put together by her.
The new website went live in March 2014 and, even without any kind of active Google campaign, we started to see a marked increase in both visitors to the website and, most importantly, an increase in the number of new enquiries!
At the end of 2014, they felt confident enough to sign up for an organic Google campaign with us, part of which included having monthly blogs written. There were many discussions about the blogs as their field is so specialist that they were always concerned that the blogs might not be relevant enough. However, our SEO partners were able to find a copywriter who also used to be a vet and, as such, were able to develop a relationship which ensured an ongoing supply of quality material for the website, written in a way to keep Google interested and improve their rankings. This is in additional to the ongoing content put up by Fiona.
So, how have things improved in 2015? Well, have a look at this graph. It shows the actual number of unique visitors to the website has continued to improve, increasing steadily to nearly 1000 per week currently:

The question most people might then be thinking is what about the conversion rate? How many new customers have they actually got through their website?
Well, let's put it this way:
In 2014, after the launch of the new website, the number of new customers coming directly through the website more than trebled!
So far this year, in 2015, the number of new customers coming through the website had more than doubled again!
This is a 600% increase on 2013! Please see the chart on the right!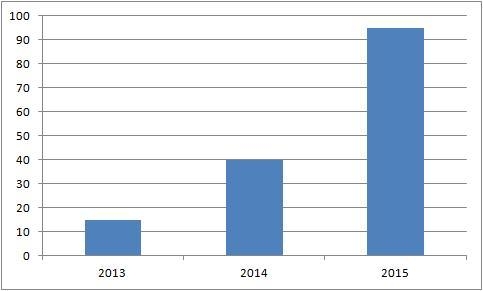 This is a good case study because it shows:
The dramatic effect a website that is built correctly by us can have with Google
The additional dramatic effect that the same website can have with Google when we are also running one of our organic Google campaigns!
If you are looking for instant results, go the Pay Per Click route. Google doesn't care about the quality of your website, you can compete with any other website on equal terms. However, like any form of advertising, there is no long-lasting effect. In fact, it is effective for only as long as you are paying for it!
If, however, you are prepared to take a slightly longer term view and invest in the future growth of your company, talk to us! We do exactly what we say needs to be done, time after time!
Access by design, a web design Chichester company that truly delivers!
Related posts