Responsive Accessible Design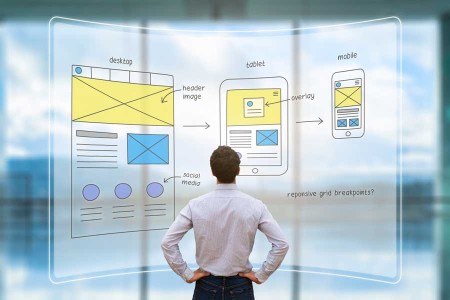 Responsive Web Design
Since 2011, people have been able to view your website in any number of different ways – on smartphones, tablets, netbooks, laptops, widescreen monitors and even games consoles. In January 2011, an incredible new web design technique emerged, called Responsive Design. For the first time in the history of website development, websites were able to react to the device on which it was being displayed! On a smartphone, the navigation bar was presented in a way which is easy to use but is suitable for smaller screen sizes. This became known as a Hamburger menu.
As you increase the screen size and view the same website on a tablet, the layout changes to present the information in a different format which is still easy to navigate, but makes use of the larger space. The layout keeps changing and adapting, right the way up to the standard format which appears on a large computer monitor.
We were not only one of the first website agencies in the UK to adopt this technique, we also did something that no one else had done: we combined it with our expert knowledge of accessible website design and created the World Wide Web's first-ever website that was both fully responsive and fully accessible for disabled people! This is why we can proudly claim to be Global Leaders in Website Accessibility for Disabled People!
Always striving to innovate with accessibility!
Whilst the rest of the world was slowly catching on to the idea of responsive design, we never stopped developing! New mobile devices have been coming out all the time. Smartphones have got bigger, tablets have got smaller, and laptops have gone both ways! There are a bewildering array of different screen sizes, manufacturers and operating systems, how on earth do you keep on top of them?
Simple, the guidelines on how to build websites correctly and to ensure that they are accessible for people of every ability and disability have been around since 1999. They have been updated every few years but the principles are unchanged. If you follow the guidelines, if you ensure they are at the heart of every website you create, you can feel comfortable that your websites will work correctly for everyone.
Access by Design. Accessible Websites, Beautifully Designed.
Outstanding Website Accessibility Audits.
Award-winning web design, Chichester.
Changing the World, One Website at a Time.