Alfa Taxis - a Google success for a truly accessible taxi company!
Background
Steve Jull owns and runs the Wheelchair Friendly Minibus Company. He specialises in providing a wheelchair friendly minibus service in the Chichester area. Although, by law, all taxis have to be able to take customers in wheelchairs, it is only usually only possible to accommodate a customer in an electric wheelchair with an adapted minibus, due to the weight of the electric wheelchair. This is what Steve has been providing for clients in the Chichester area for the last 4 years.
He has never had his own website before, his only listing on Google was on a local government website. He came across our advert for Run Your Own Website in a local magazine (Local Life) and got in touch with us.
What did the client want?
His requirements were straightforward: he wanted his website to be on page 1 of Google for anyone searching for a wheelchair friendly taxi in the Chichester area! He went for an Option 2 Run Your Own Website and paid us to build it for him. He also had the copy written by Will Harvey from Loose Marbles, who has written copy for many of our clients. We launched the website a few weeks ago.
What happened a few weeks after the website was launched?
Steve was called the other day by someone claiming to be from Google. They informed him that he was nowhere on Google at the moment but they could make sure he was Page 1 of Google for only £120 per month! Although Steve was suspicious, it was written in such a way that he wanted to run it by me, just in case it turned out to be genuine.
What did we do?
The first thing I did was to check Google myself. I did this using Private Browsing in Firefox and also using a Proxy Server, to be absolutely certain. These methods allow you to use Google like your potential clients would, without having already been to your website. Google will often change its search results depending on your own search habits but this is unhelpful as it can give you different results to what other potential clients would get.
Where was it on Google?
The results were:
wheelchair taxi - top of Google Local listing
wheelchair friendly taxi chichester - 1st
accessible taxi chichester - 2nd
wheelchair accessible taxi chichester - 2nd
wheelchair taxi chichester - 2nd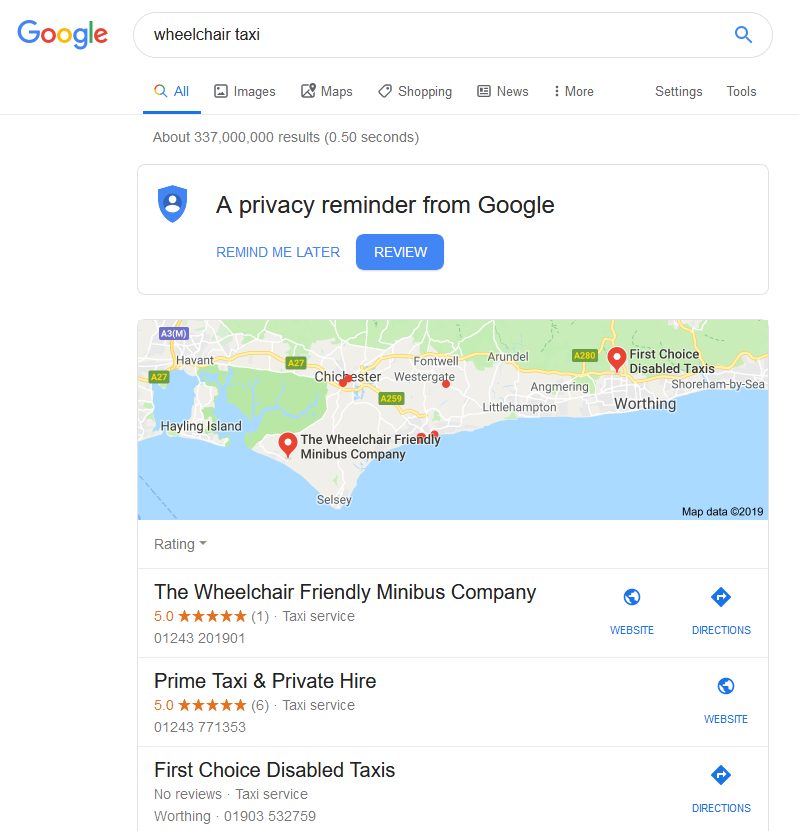 All of Steve's competitors have had websites for many years, Steve has been live for only a few weeks! We could give you many other examples of Run Your Own Websites that are continuing to perform brilliantly with Google. Needless to say, Steve told the person who had contacted him, where he might like to go!
Try it for yourself, it's brilliant!
Why not do your business a favour and check out Run Your Own Website for yourself?
There are also now 14 Videos to show you how to build it yourself and you can try it right now, 100% Risk Free!
Clive Loseby, Access by Design and Run Your Own Website.
Award winning web design, Chichester.
Related posts