Google Vlog #04 - Google loves Local!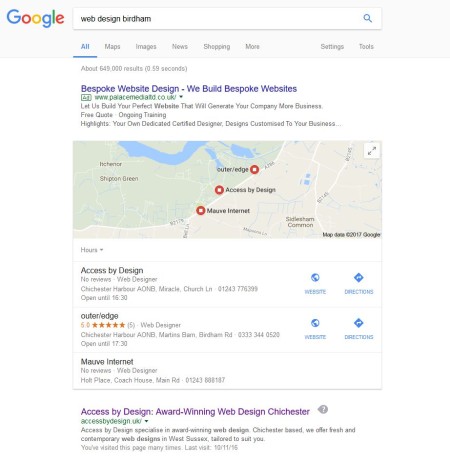 Google loves local! Clive Loseby, MD of the Award-Winning Website Design Company, Access by Design, explains in his 4th tip, how you can make use of Google's resources to get on page 1 with very little effort!
*** Transcript ***
Hi my name is Clive Loseby from Access by Design and I'm talking to you today about 20 things you need to know about your website and Google in 2017.
No. 4 Google loves local.
We all love local. We tend to use local businesses, local shops, local hairdressers because people tend to look after people who are close to you. Now Google understands this and Google gives a lot of stuff away for free. It really likes to promote local businesses where you are.
You can see on the screenshot, if you type in "web design Birdham", unsurprisingly we are top with that listing because we are a web design company in Birdham, you get the idea. This is free to do, you can go and do it today. All you need to do is go to Google My Business and register your business. You should be doing it.
Now, I meet lots of people who you ask where they do their business they like to have clients anywhere and that's fine but you've got to start from somewhere and the best place to start is from where you are, because Google likes you to be where you are.
Get your business registered on Google My Business today and see the benefits you get from being available to people looking for you locally. if you'd like to have a free review of your website please do get in touch. Thank you
Access by Design. Award-winning web design, Chichester.
Related posts