Today is Purple Tuesday!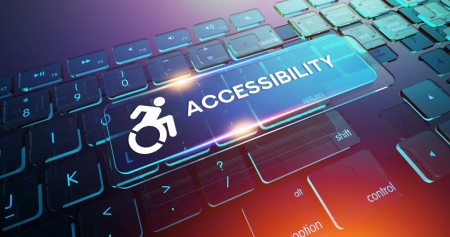 Did you know that today is Purple Tuesday? It is known as the UK's official Accessible Shopping Day and is supported by the UK Government and many major shopping brands. As someone who has been promoting the cause of Website Accessibility for Disabled People for 15 years, I am personally delighted to see another event that is promoting the cause of accessibility!
The Disability Discrimination Act was introduced into the UK in 1995. The Act was primarily concerned with fair access to goods and services for disabled people. It made it mandatory for all businesses and retail outlets to make "reasonable adjustments" for disabled people to access them. It was certainly a step in the right direction and was incorporated into the Equality Act of 2010, which made it a legal requirement that no-one was discriminated against on the grounds of race, ethnicity, gender, sexual orientation or disability.
As time has gone on, there has been a general movement towards taking a more inclusive approach in many aspects of public life. Physical accessibility for disabled people has improved considerably but does have a long way to go. However, the sad fact is that, 26 years on from the introduction of the Disability Discrimination Act, when it comes to the Web, we are all too often right back in the 1990s.
What I mean by this is that most people I have talked to over the last 15 years have looked blankly at me when I talk about website accessibility. I realised that I had to add the words "for disabled people" onto the end of it. Even then, people would still not understand exactly what that meant in practice. It is hardly surprising, then, to find that over 90% of the world's websites are inaccessible for disabled people!
This is why I started my monthly workshops, on the first Wednesday of every month at 4 pm. During these workshops I explain, in straightforward language, what website accessibility actually means in practice, why it applies to your own website and some simple steps you can take to make the experience better for disabled people. The workshops are run through zoom and our next one is tomorrow (Weds 3rd November). Come along, I guarantee you will learn something new and why this is such a vital issue.
For more details please follow this link: https://webaccess.live
If you like a 15-minute chat about accessibility and your own website, why not follow this link to book yourself in? https://calendly.com/cliveloseby/accessibility-audit-free-initial-consultation
Clive Loseby
Access by Design. Beautiful, Accessible, Web Design, Chichester.
Related posts