Overlays do not just affect disabled people!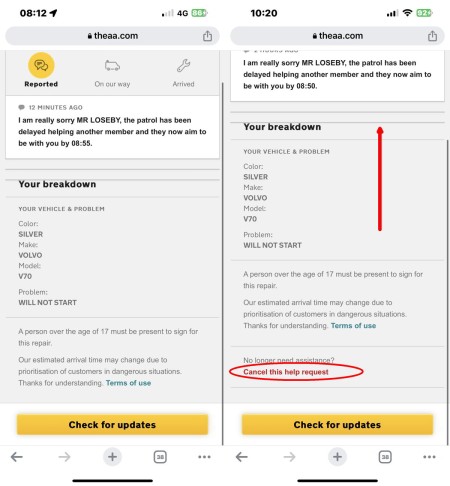 A great start to the week!
Monday morning. My car won't start and I have a one-hour drive home ahead of me. I drive a 22-year-old Volvo which I love very much but sometimes there is an issue with the immobiliser. Disconnecting the battery for a few minutes usually fixes it.
It did not this time.
After 5 mins and after 10 mins.
I go online to the AA's website to request help.
Whilst waiting for the AA, I decided to disconnect the battery again, wait 15 minutes this time and then try once more.
It worked.
Yaay! I can now drive home.
The AA are saying they will not be there for another hour, so I wanted to cancel their visit.
That is where the problems begin
If you look at the screenshot on the left, you can see that there is no apparent link to cancel my request for help. Instinctively, I pull the screen up and, as you can see from the screenshot on the right, a link to cancel my request appears, as if by magic!
The problem is that the mobile website has an overlay across the bottom. A big yellow button is labelled "Check for Updates". I take my finger off the screen and the Cancel link disappears.
I tried pressing the link whilst keeping the screen pulled up.
I tried in landscape mode.
I tried in 3 different browsers.
I just could not do it. All because of the "helpful" overlay!
I thought, OK, no problem, I will call them.
Could I find the phone number anywhere on the website? I will let you guess the answer.
In the end, I used Google to find their phone number and then called them and, eventually, I was able to get the visit cancelled.
All because of an overlay!
Caption: 2 screenshots of the AA breakdown mobile website, containing the details of the car breakdown. The right-hand one was taken when the screen was pulled up, showing the extra text "No longer need assistance?" and the following link, in red: "Cancel this help request".
Would you like to find out more?
If you would like to find out more about website accessibility, please follow these links:
Find out more about website accessibility audits
Discuss having an accessibility audit of your website
Have a 1-hour consultation on any aspect of website accessibility
Clive Loseby
Access by Design
Beautiful, WCAG Compliant, Accessible Website Design
Delivering an Outstanding Website Accessibility Audit
Award-winning Web Design, Chichester
Related posts