Imitation is the highest form of flattery!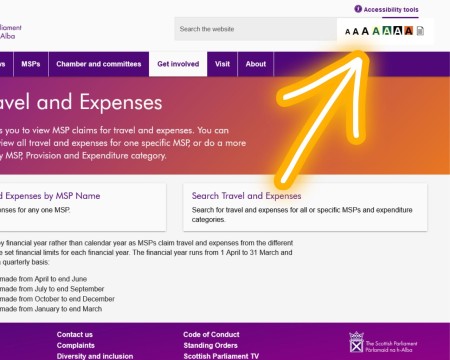 That accessibility tool looks familiar!
In my last blog, I detailed my recent journey with the Scottish Parliament in developing a new MSP Expenses Tool that was fully accessible. It was an incredibly positive experience for everyone involved, as we were invited to be involved from the beginning. This is a rare experience.
Accessibility normally comes last
I understand that there are many reasons why accessibility does not get included from the beginning.
This is often because of the perceived cost.
However, what is this cost in reality? Can it really be as much, or more, than the remedial work required to fix an inaccessible website?
I would be astonished to find a single example when this has been the case.
Not all Accessibility Toolbars are the same!
Take accessibility toolbars for example. These toolbars are usually created by 3rd party accessibility products that cause more problems than they claim to solve.
However, does this mean, therefore, that all accessibility toolbars cause problems?
The answer is no.
Not at all.
If the toolbar is integral to the code that produces the website, then it does not cause additional problems. No 3rd party solution or other fix does this.
Our own toolbar, however, does do this.
This is why I was so delighted to discover that the Scottish Parliament's Expenses Tool has our accessibility tool integrated into it!
I mentioned this and was reminded that "Imitation is the greatest form of flattery!" and our toolbar was seen as an example of best practice.
I am now watching to see if it will be integrated into the rest of the site at some point. Perhaps it will get picked up by the other UK Parliaments. If it does then it is proof positive that there is more than one way to Change the World, One Website at a Time!
Would you like to find out more?
If you would like to find out more about website accessibility, please follow these links:
Watch my TED Talk
Find out more about website accessibility audits
Discuss having an accessibility audit of your website
Have a 1-hour consultation on any aspect of website accessibility
Clive Loseby
Access by Design
Beautiful, WCAG Compliant, Accessible Website Design
Delivering an Outstanding Website Accessibility Audit
Award-winning Web Design, Chichester
Related posts