I am a keynote speaker at the Art of Entrepreneurship! (RESCHEDULED)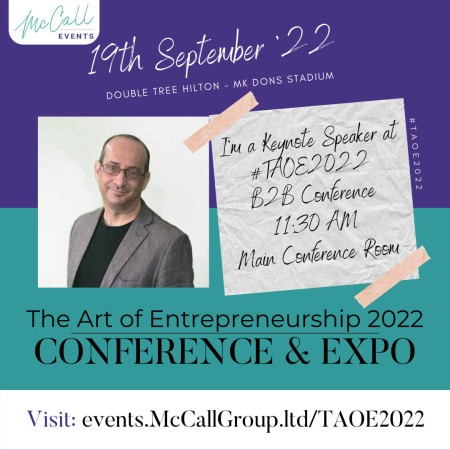 It is great to be on the road again - although not quite yet.
*** The Art of Entrepreneurship has been postponed due to the Queen's funeral. It has been rescheduled for Monday 21st November. ***
I am so pleased to be speaking at what will be my 2nd public speaking gig this year, following on from my TEDxTalk in February and it is being held at the Milton Keynes Bowl on Monday 19th September!
It is going to be an amazing event, including a business expo, two networking events and 8 speakers.
It has been put together pretty much single-handedly by the amazing Angela McCall, owner of McCall Media and I have to say a MASSIVE thank you to her for all her hard work, it is a pretty thankless task, putting on something like this and she has done an amazing job!
Running a small business takes up every minute of your time, it can be incredibly challenging and Angela wants the event to be part of a wider resource for small business owners everywhere with plans to expand it in 2023.
You will be completely unsurprised to learn that my Keynote speech is about websites, and what you need to have one that will truly help you grow your business in 2022 and beyond.
You can find all the details by following this link. It is free to attend the main event but only if you register in advance.
#Accessibility #WebDesign #AccessByDesign #TAOE2022
Caption: Photo of Clive Loseby. Keynote Speaker. 11.30am Main Conference Room 19th September The Art of Entrepreneurship 2022 Conference and Business Expo Double Tree Hilton MK Dons Stadium
Clive Loseby
Access by Design. Accessible Websites, Beautifully Designed.
Outstanding Website Accessibility Audits
Award-winning web design, Chichester.
Related posts