A testimonial from one of our clients…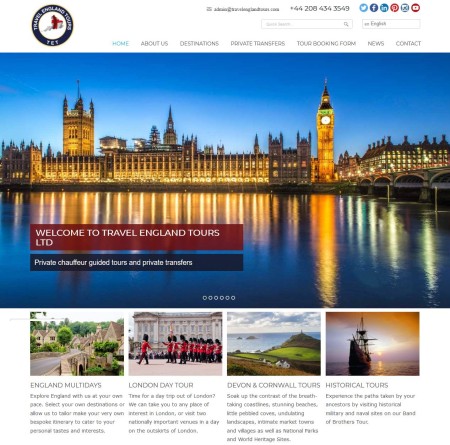 Sarah Rutherford runs Travel England Tours along with her husband Ian. I wrote a case study about them towards the end of last year. Their website was a Run Your Own Website Option 5, which is the perfect solution for people who are looking for a website that is customised to their liking, without having to fund the cost of a entirely bespoke website. The original case study can be read by following this link.
The site has been live for a few months now and Sarah has written us the following testimonial which I wanted to share.
"After years of fearing WordPress and not really knowing what I was doing, I decided a user friendly Run Your Own Website was the way forward for me. It removed the jargon terminology, coding and unfamiliar layout as the Run Your Own Website was as simple as using a straightforward Word package.
Over time, our business expanded and I needed a website that went beyond what was contained in the Run Your Own Website framework and Access by Design helped and guided me to design one but it meant I would have to use WordPress to alter certain sections on the website. I feared I would ignore updating my website as I didn't understand WordPress and imagined I would have to keep paying designers to make alternations for me, unless I went on a course to learn it myself but Clive and Sonia at Access by Design gave me the confidence to use WordPress without any training.
Polly was marvellous by coding the design we wanted in a way that would mean alterations I made going forward were straightforward for me. As promised, they handed over an uncomplicated WordPress dashboard which I could easily navigate and before I knew it, I was not only amending what was written, and making new pages, but even uploading new photos, changing their size and position on the page and even embedded a Trip Advisor logo into my website without any help.
I was able to do this by using both the Run Your Own site and also WordPress. I am so grateful to Clive, Sonia and Polly for handing me a WordPress site that isn't daunting as now I even find myself within the WordPress Text (coding) section inserting codes myself to make the changes that I want.
I would definitely recommend a Run Your Own site and equally I can assure you if you have a custom built WordPress site, you will be handed one that is easy to use and navigate, something previous website designers I had used seemed unable to provide me with. There are things I still don't know how to do, but I'm now not afraid to try and I know Access by Design are always at hand if I need help.
Thanks
Sarah"
If, after reading this, you are interested in finding out how Run Your Own Website could help you grow your business, why not give us a call on 01243 766399? We would love to have a chat with you!
Clive Loseby, Access by Design. Award winning web design, Chichester.
Related posts