20 things about Google - Thing 04 Do you like your Local? Google does!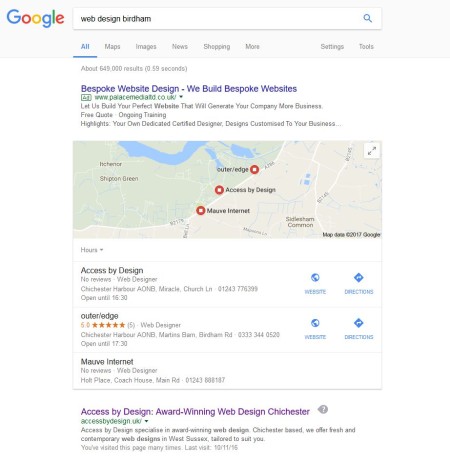 How far would you travel to meet a customer? 5 miles? 10 miles? 100 miles? How about if the local ones could come and see you instead? People like to deal with local businesses, they tend to get a better, more individual service. Google understand this and introduced Google My Business a few years ago. It is a free service so, if you have not yet registered your business with Google, you should do so right away!
When you search for a local business, you will often see a Google Map with 3 local businesses shown on it. Searching for "web design birdham", unsurprisingly, has us top, below the Adwords. Hardly surprising, considering that we are a web design company and we are based in Birdham! Interestingly, there are 2 other web design companies in Birdham as well, which shows how competitive the industry is! Below the map, by the way, you will see what are known as the organic or natural listings and we are top for that as well, unsurprisingly. Click on the first image at the bottom of this page to see it for yourself.
So it makes sense, doesn't it, that Google will show local businesses on its map. Here is an example of where Google doesn't behave quite as you expect and demonstrates that there may be other factors at work.
Look at what happens when we type in "pine furniture Chichester" (Image 2 at the bottom). Robert Froud (one of our clients by the way!) is top of the local businesses section, even though his workshop is at least 4 miles away from the City and there is another furniture shop in the Centre of Chichester. He is also top for the organic listings below the map. With his previous website, he was nowhere on Google for the same search term. If you open the map to see all of the local businesses dealing in pine furniture, you can see how many are on the map, all of them closer than Robert yet he is still top!
So there is something else at play here. In my previous blogs, I have stressed the need for a website that is both well-coded and fully accessible for people of all abilities and disabilities. Robert's previous site did not fit into this category but he came on board with us around a year ago with one of our Run Your Own Websites. In case you haven't heard of it, Run Your Own Website is one of our bespoke sites (built to our usual high standards) turned into a low-cost, off the shelf product. This allows anyone, no matter how small their business is, to have a smart, clean, well built website that they can control themselves for an amazing price.
Since the new website was launched, he has shot up to the top of Google for "pine furniture Chichester" and for "pine furniture West Sussex" as well!
Here's another example of how one of our clients had similar results. Lisa Rogers lives in Bracklesham Bay, which is some 6 miles South of Chichester. She also has a Run Your Own Website which we launched for her last year. Like Robert Froud, she is also top of Google's organic listings for her key phrases: "Dog Walking Chichester" and "Dog Boarding Chichester"! See pictures 4 and 5 below!
Remember, if you are not on Google My Business, you need to do it now! It's free and doesn't take long to do! To do this now, follow this link
Access by Design are an award winning company specialising in web design. Chichester based, they have created over 250 websites in Hampshire and Sussex. If you would like to find out what we could do for you, give us a call!
Next time... Google Phone Home!
Related posts