Understanding Website Accessibility, the easy way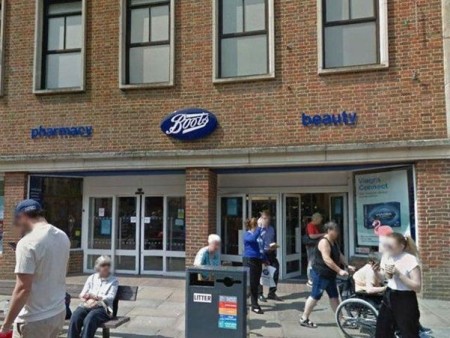 A simple way of explaining a complex issue
Website accessibility, although a complex subject, is of fundamental importance because it relates directly to the experience of all visitors to the website. The reason I say all visitors is because, when thought is given to the accommodation of the needs of visitors with assistive needs, everyone else will also benefit.
Here is a way of explaining it that everyone can understand. Let us look at the Boots store in Chichester, West Sussex.
(The image is courtesy of Google Street View and used in accordance with their licensing terms. )
As can be seen in the photograph below, the Boots store is in an old building that fortunately has level access leading up to it. There are three sets of doors. The door on the left is an automatic sliding door, the two doors on the right are heavy, glass doors that need to be opened manually.
If the wheelchair user in the photograph wished to go into Boots, which of these set of three doors do you think they would choose?
The left hand one, the automatic door, I assume you are thinking. Why? It is automatic, it will detect the person approaching and open for them, er, automatically.
OK, another question. What about if you are able to walk but need the assistance of a walking frame, walking sticks or crutches. Which door would you choose then?
The automatic door, obviously.
OK, you are able to walk but you are pushing a small child in a buggy or a baby in a pram. Which door would you choose then?
Again, the automatic door.
So, you are able to walk freely and are unencumbered. You then spend a fortune on nappies and come out with them under both of your arms. Which door would you use to leave the store?
The automatic door, I hear you all say.
This photo sums up accessible website design.
Offer an alternative, it is easy!
Why?
Simple. You are not forcing anyone to use the automatic doors, you are offering it as an alternative. The heavy glass doors are still there, for anyone to use freely. You are merely providing an additional way of achieving the same outcome: entering or leaving the store in a way that is most comfortable to you.
Accessible website design is not about forcing everyone to use a prescriptive way of using your website, it is about offering different ways for everyone to access information and do business with you. By the way, your own website falls under the Equality Act, so it is a legal requirement for it to be accessible anyway.
I have been working in the field of website accessibility for 15 years. My company, Access by Design, has been designing and building accessible websites since 2006. Our mission is to spread the message of the importance of both strong design and accessibility in every website built.
If you would like a free 15-minute chat about your own website and accessibility, why not book yourself in for a chat on our brand new website dedicated specifically to website accessibility: https://websiteaccessibilityaudit.co.uk/
My next website accessibility seminar is at 4pm on Wednesday 4th August. Please follow this link to register.
Related posts