"Hey you! You in the wheelchair, stand up!"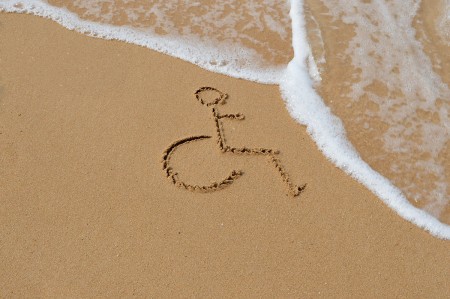 I cannot imagine that anyone reading this article would ever say this to someone who is in a wheelchair. It is obviously inappropriate, insensitive and, frankly, completely offensive.
It is an extreme example of inappropriate behaviour but I can remember many occasions when Jess and I were out in a café when people would ask me a question similar to "Does she take sugar?", rather than asking her directly. Rather than making a big issue of it I would just say "I do not know, why don't you ask her?". A little gentle education is never a bad thing of course.
Now think about your website. Is the language you use welcoming to everyone, regardless of their ability or disability? Or have you fallen into the unfortunate trap of using the C-Word?
I am talking, of course, about that over-used phrase:
"Click here to subscribe to our newsletter"
"Click here to read our latest blog"
"Click here to read our Accessibility Statement".
The last one is particularly unfortunate. Why?
Close your eyes. Now click on the Like icon below this post.
Have you done it?
Why not?
It is easy, just Click Here to Like this post.
Oh, wait, your eyes are closed so you cannot see where to put the mouse.
Click Here. Click Where????
Instead, use the phrase "Follow this link".
"Follow this link to subscribe to our newsletter"
"Follow this link to read our latest blog"
"Follow this link our Accessibility Statement"
Immediately you become more inclusive, just by changing your language.
Going back to my offensive phrase at the beginning of this article, although no one ever said that directly to Jess, I can remember many meetings we were in where everyone would be asked to stand up. Jess sometimes went through the motions of attempting to stand up to make a point but most people were oblivious to it.
There was one meeting, however, where somebody said it differently. They said, "if you are able to, please stand up" and immediately it became inclusive and not exclusive. It must have been 20 years ago now but I will never forget it.
The language we use has an effect on people. Have a look on your website, do you use the C-Word? If you do, please may I suggest you change it?
I host a monthly workshop on Website Accessibility for Disabled People on the first Wednesday of every month, at 4pm. The next one is on the 3rd of November, please book yourself in now by following this link: https://webaccess.live
Registration is free. I guarantee you will hear things you have not heard before and you will get some pointers that could protect your business/organisation.
If you would like to discuss the accessibility of your website, please book yourself in for a free 15-minute consultation by following this link. https://calendly.com/cliveloseby/accessibility-audit-free-initial-consultation
Clive Loseby
Access by Design. Beautiful, Accessible Web Design, Chichester.
Related posts