Which would you rather pay, for the same website accessibility audit?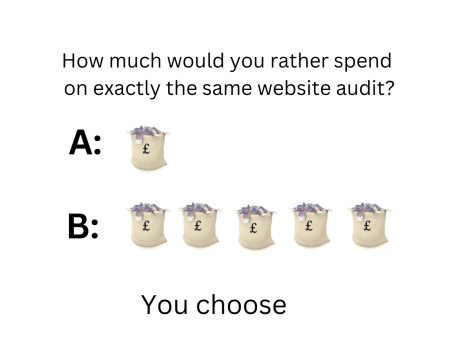 Legal action has already begun
I have been working with a client recently, undertaking an accessibility audit of their website.
Unfortunately, they are being sued because their website is not accessible to disabled people. They have brought me in to understand what the problems are and to develop a roadmap to resolving the issues.
They will be protected from future claims
My audit details the issues with the website and what could be offered as alternatives whilst it is being made accessible. This information has gone into the accessibility statement I have written for them.
When my accessibility statement goes up on the website, this will protect them against any future legal action, because it openly explains the issues that disabled people might find and offers alternative ways that they can get assistance.
This cost is now 5 times greater
Unfortunately, it will not do anything about the current legal claim. The settlement, including their legal costs, will be around 4 times the cost of the audit. The cost of the audit is on top of that.
The end result is the same: the website will become accessible but the cost is 5 times greater. Which would you rather pay?
Caption: The infographic reads: How much would you rather spend on exactly the same audit? Option A is next to a bag of money. Option B is next to 5 bags of money. Below this is the phrase "You choose"
Follow this link to watch my TED Talk: https://go.ted.com/cliveloseby
Follow this link to find out more about website accessibility audits: https://accessibilityaudit.co.uk/
Follow this link if you would like to discuss having an accessibility audit of your website: https://calendly.com/cliveloseby/accessibility-audit-free-initial-consultation
Follow this link if you wish for a 1-hour consultation on any aspect of website accessibility: https://calendly.com/cliveloseby/client-website-accessibility-consultation
Clive Loseby
Access by Design
Accessible Websites, Beautifully Designed
Always Delivering an Outstanding Website Accessibility Audit
Award-winning Web Design, Chichester
A different accessibility statement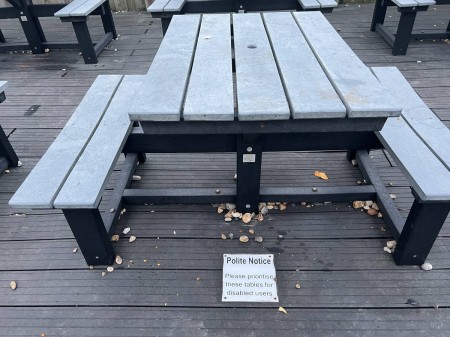 I love this accessibility statement!
I was out walking along this seafront this morning and came across this.
It is a set of 8 outdoor tables and seating, in front of a café.
This sign is in front of each of the 4 tables in the front row. It reads:
"Polite Notice
Please prioritise these tables for disabled users"
How many times do you see tables like this but fixed benches all around them, leaving no space for a wheelchair (or pushchair, walking frame etc..)?
What I love about this is that every table is like this, so there is wheelchair space with each one.
The notice is just reminding customers who aren't disabled that it is a lot easier for them to sit further away than it might be for someone who is disabled.
An accessibility statement is not there to tick a box. It is to show that you care. This is why I love this, it speaks volumes about the ethos of the café owner.
Follow this link to watch my TED Talk: https://go.ted.com/cliveloseby
Follow this link to find out more about website accessibility audits: https://accessibilityaudit.co.uk/
Follow this link if you would like to discuss having an accessibility audit of your website: https://calendly.com/cliveloseby/accessibility-audit-free-initial-consultation
Follow this link if you wish for a 1-hour consultation on any aspect of website accessibility: https://calendly.com/cliveloseby/client-website-accessibility-consultation
Clive Loseby
Access by Design
Accessible Websites, Beautifully Designed
Outstanding Website Accessibility Audits
Award-winning web design, Chichester
Do you just want to tick boxes?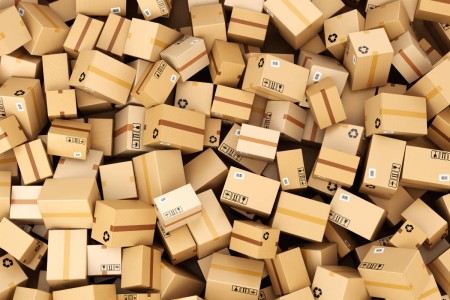 What are you looking for?
When it comes to the accessibility of your websites, do you just want to tick boxes? How many boxes do you want to tick?
It is not a loaded question, but it is usually one of the first ones that I ask.
I get a lot of enquiries from organisations and businesses who want help with their digital accessibility, normally their website, but sometimes it may be something else, such as a customer portal or an online training environment.
Let us start counting...
The starting point is nearly always WCAG AA. If you are not aware, that is commonly accepted as the minimum standard websites should reach, and is the minimum standard set by the UK government for public sector websites to achieve.
That is 1 box.
However, to achieve WCAG AA, you also have to achieve WCAG A. That is 2 boxes.
How about a test specific for screen readers? After all, people who use screen readers have a need for a website to be accessible. That is 3 boxes.
That is 3 boxes, how about 2 more?
How about coding standards? If your website is not built to an adequate, measurable coding standard, it can affect how well it works on different devices and browsers. This of course is also an accessibility issue. That is 4 boxes.
There are standards that search engines expect. It will not be found as easily iff your website does not meet those standards. This, in turn, is also an accessibility issue. We are up to 5 boxes now.
And many more!
How about boxes related to the experiences of real disabled people actually using your website? After all, you can appear to meet these standards yet still fail to be accessible. We could be up to a lot more boxes now.
However, rather than see this, as simply too much, why not simply see this as a chance to get it done properly, and to know what needs to be done?
Even if some of the issues may take a long time to fix or simply be too costly, by having them all included in your website accessibility statement, you can have an honest dialogue with the visitors to your website, which, in turn, they will greatly appreciate.
Let us help you on a flexible, affordable basis.
If you'd like to find out how we can help you with this, please get in touch +44-1243-776399 (24 hrs).
It might be that, instead of considering a full audit, you would just like some guidance on a specific issue. In this case, why not book a consult with me instead?
Please follow this link to find out more: https://accessbydesign.uk/services/consultancy/
Accessible Websites, Beautifully Designed
Always Delivering an Outstanding Website Accessibility Audit
Award-Winning Web Design, Chichester
Website Accessibility Training Day in Chichester 27th Feburary 2023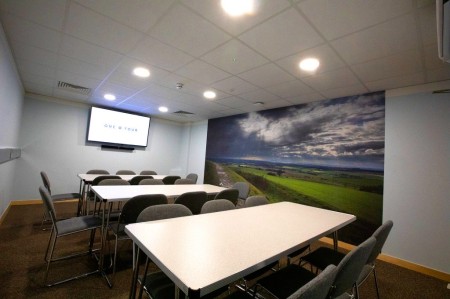 If you are a web designer and are in West Sussex or Hampshire, this is for you!
Website accessibility (for disabled people) is a vital issue that everyone should be aware of but, unfortunately, most people are not.
They may have heard the term but not really understand what it means and how it affects them and the visitors to their website.
Sadly, in 2022, over 96% of the top 1 million websites failed basic accessibility tests. This demonstrates how serious the problem is and we are dedicated to changing that.
One of the ways in which we do this is through the training and support we provide to other web design agencies, helping them improve their digital accessibility.
I am delighted to announce that our training day has now been rescheduled from last year, at a new venue!
Where is it going to be held?
It will be held at One O Four, The Hornet, Chichester and, having visited it recently, I am just so pleased that it will be there. The facilities are simply excellent!
If you would like to find out more about the venue, follow this link to visit their website.
Who is it for?
This training day is aimed specifically at web designers and web design agencies in West Sussex and Hampshire who want to learn more about digital accessibility.
What is it about?
I was fortunate enough to have the opportunity to give a TEDxTalk earlier this year on website accessibility, which has now been featured on TED.com. If you want an introduction to the subject, this is an excellent place to start.
Watch my TED Talk on website accessibility for disabled people.
However, this talk was aimed at everyone and was deliberately non-technical.
As a web designer, it can be easy to get overwhelmed by the amount of information out there and it can be quite confusing. This is my area of expertise and I want to help you.
This training day is not about your preferred platform, programming language or style. Instead, I will give you a framework that you can use with your web projects in the future that will work alongside your current practice, whatever that is. I will also demystify the subject and clear up many of the misconceptions that exist.
Timetable
The day will run as follows:
9.15am - Registration
9.30am - 11am Session 1
Introduction to Website Accessibility
Website Accessibility within the Public Sector and the Private Sector
Designing an Accessible Website - the Fundamentals
11 am-11.30 am Break
11.30 am -1 pm Session 2
Building an Accessible Website - getting into the Details
1 pm - 1.30 pm Break
1.30 pm - 2.30 pm
Testing and Launching an Accessible Website
2.30pm - 3pm
Feedback, Q&A Session
Pricing
My training day is priced at £199 plus VAT. However, I am offering a 25% early bird discount for bookings during January, please use the Discount Code 50TR. Places are limited.
Please follow this link to book your place now: https://buy.stripe.com/bIY8zW6PPcoY70Q28c
If you are not in the Chichester area and would like to be notified of future events, please let me know.
Thank you very much!
Clive Loseby
Access by Design
Beautiful, Accessible Web Design, Chichester
My TEDxTalk on Website Accessibility is now featured on TED.com!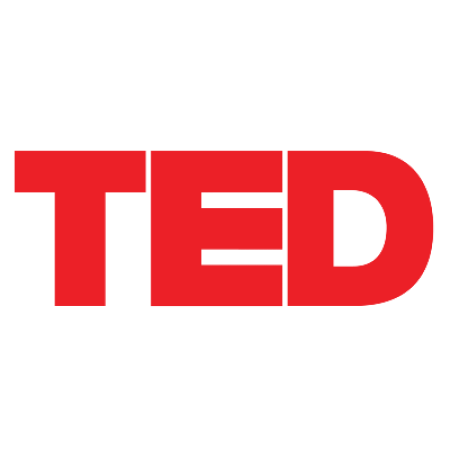 **** UPDATE ****
My talk is now live, follow this link to watch it!
I am simply thrilled to announce that my TEDxTalk is going to be featured on the main TED Website next week!
I am extremely grateful to TED for giving me this amazing opportunity, and I hope the wider reach of TED will get more people thinking about their digital accessibility.
It will be published at 4pm GMT on the 21st of December. The link will then be: https://go.ted.com/cliveloseby
I want to say a massive thank you to Dale Howarth for inviting me to the TEDx Event he organised on the Isle of Wight back in February. He did not know me at the time but he felt that my message was important and needed to be heard. I am so grateful to him for giving me that chance to speak.
The title of the event was "If not now, when?" and never has that been more appropriate for the cause of website accessibility and accessibility in general than now.
This is what drives me. One Website at a Time.
Follow this link to visit our website about accessibility audits
Follow this link to watch my TEDx Talk on website accessibility for disabled people
Follow this link to download my free pdf on making your website content more accessible
Follow this link to book a 1-hour consultation with me
Clive Loseby
Access by Design
Accessible Websites, Beautifully Designed
Outstanding Website Accessibility Audits
Award-winning web design, Chichester
Why Every Industry Should Make Customer Experience a Priority
Customer experience should always be a top priority for businesses in every industry — no matter how big or small. Without it, it's impossible to convert leads into customers. But even if you win their business, it can still be challenging to retain them in the long run — because a great experience keeps them returning for more.
Discover why making the customer experience a priority is crucial for all businesses.
1. It's More Cost-Effective
Businesses providing a better customer experience leads to higher satisfaction rates. And customers will be more likely to keep coming back, which builds a loyal customer base.
A loyal customer base is the backbone of any firm because they're easier to convert than a first-time customer. That's because they're familiar with your business and know what to expect when interacting with your brand.
On the other hand, acquiring new customers takes several interactions and costly ad spending because they don't trust as easily as a loyal following does.
Therefore, it pays to provide customers with a good experience, saving your resources in the long run.
2. Establishes a Positive Reputation
Thanks to technology, the world is more strongly connected than ever. Businesses can recommend more relevant products, while customers can follow up with the latest updates about a brand. Yet, this also means that word can spread like wildfire, and it doesn't matter whether it's good or bad.
If one customer has a poor experience, you can bet they'll tell their friends and family about it. The same goes for good experiences — people will likely recommend your products or services to others.
Customer experience is paramount to your business because it helps build a positive reputation and brand awareness. People who have a good experience with your brand ensure they leave positive reviews, which is valuable for attracting new customers.
3. Partnership Opportunities
Competition continuously exists in the business world. Every company wants to attract more customers, make more money and gain more business.
While good experiences can mean more business, that's only sometimes the case. Regardless, it certainly does attract potential partnerships. Customer loyalty and brand awareness show how well your business is performing — and other companies want to be a part of that.
When other enterprises see you're doing something correctly, they'll want to collaborate and work with you.
4. Free Advertising
As mentioned previously, good customer experiences are conducive to spreading brand awareness. Research shows that 90% of customers say experience impacts their loyalty to brands. And if they like what you provide them, this goes hand-in-hand with free advertising — or word-of-mouth marketing.
If you've built a good relationship with your customers through positive experiences, your customers will tell others about it. And they'll be sure to recommend your business because you'll always be at the top of their minds when someone needs a referral.
Furthermore, they'll be likely to leave a positive review online. Gaining those testimonials can be a valuable asset in your business since it guarantees that customers can trust you.
5. It's What Separates Good Companies From Great Ones
Customer experience matters because it positions your business and separates you from your competitors since you're building a credible reputation in the market.
In a world where most people can only buy one product at a time and choose between infinite options, experience is key. It's not enough to do business — a company has to earn customers' loyalty by providing an exceptional experience with every brand interaction.
Companies that create positive experiences are more likely to grow their businesses and attract new customers.
How To Improve the Customer Experience
As you sharpen your focus on the customer experience, consider taking these steps to make an immediate impact on your business:
Create a customer experience vision statement: It should align with your company's values. That way, you can use it to inform and guide organizational behaviors and form better habits.
Develop a to-do list: Create a list of necessary actions that will help improve your customer experience. These might include creating a consistent omnichannel approach, making technology more user-friendly and reinforcing empathy in all avenues.
Promote customer experience initiatives: Get everyone on the same page within your company during team meetings and through reminder emails.
Monitor customer feedback: Listen to your customers and take immediate courses of action that lead to positive outcomes.
Set an example: Talking about how you'll deliver a great customer experience isn't enough. You need to provide it during internal and external interactions.
Reach New Heights With Customer Experience
Businesses that embrace customer experience can reach new levels. However, it's a vital part of any business that's often overlooked. The best thing you can do is to prioritize it by focusing on providing an exceptional experience.
Remember that you need to know what your customers want and deliver it in a way that makes them happy. That way, they keep coming back for more.
Guest blog written by Eleanor Hecks is the EIC of Designerly. She's also a web design consultant with a focus on user experience and style guides. She lives in Philadelphia with her husband and golden doodles, Bear and Lucy. Connect with her about marketing, design and/or tea on LinkedIn.
Access by Design
Accessible Websites, Beautifully Designed
Outstanding Website Accessibility Audits
Award-winning web design, Chichester
A Quick Guide to Minimalistic Web Design
One design style that never goes out of trend is minimalistic. Simple lines, lack of clutter and subtle hues are pleasing no matter what decade it is. The style also tends to not look dated, giving websites time to upgrade at their own choosing instead of trying to keep up with trends. Minimalism meshes well with other styles. You can add in a few trendy items without your site getting dated.
Are you wondering how to define minimalistic web design? Even expert designers sometimes become confused about exactly what minimalistic web design means. After all, you can combine minimalism with nearly any other theme you can imagine, including punk or beach themes. Minimalistic is more of an attitude and attention to cutting clutter than anything else.
What Makes a Design Minimalistic?
Britannica indicates minimal art is also called ABC art, and comes from Russian painter Kasimir Malevich in 1913, when he put a black square on a white background for his modern art. Some would argue minimalism has always been around from the first moment the first caveperson threw out some of their items because things were getting too cluttered.
What exactly is minimalistic design? More than a definition, it's a movement. Think Marie Kondo visited your website and joyfully threw away anything you didn't need and you'll get an idea of the overall feel of minimalism. To embrace the characteristics of minimalist design, make sure you follow these simple rules:
1. White Space
One thing you'll notice about most minimalist designs is ample negative space. Designers embracing this style don't try to fill the page up with clutter. Instead, they focus on sharing only the best things and ignoring everything else. One of the first things you might do if you want to apply a new minimalistic design to your website is to cut the clutter and add more space between elements.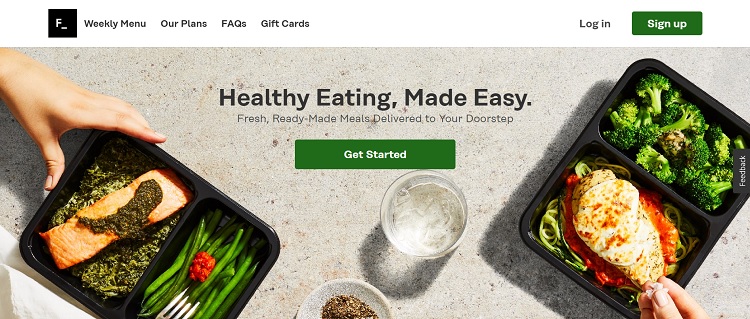 Source: https://www.factor75.com
Factor offers a ready-made meal delivery service made up of simple meals. A minimalistic web design is a perfect match for the company philosophy. Note how the only things the user sees when they land on the site is the logo, a simple navigation bar, a hero image, a headline and the call to action (CTA) button.
Note the extra space around the CTA button, the headline and between the hero image and the navigation bar. Even the hero image serves as a sort of negative space while still setting the tone.
2. Monochromatic Palette
A look at over 100 minimalist websites uncovered that around 95% of them used monochromatic color palettes. One way to keep your design focused only on the most crucial elements is to stick to a limited color scheme.
You can choose various shades within the same color family for a monochromatic look or go with just a couple of hues, such as black and white or tan and brown. A navy blue, medium blue-gray and soft blue can all mesh together for a simple, beautiful and highly luxurious look.
3. Clean Lines
Another characteristic of minimalistic web design is clean lines with a clear separation between elements. You'll often see simple, beautiful websites set up on a grid. Make sure things have crisp, clean edges and are aligned across and down the page.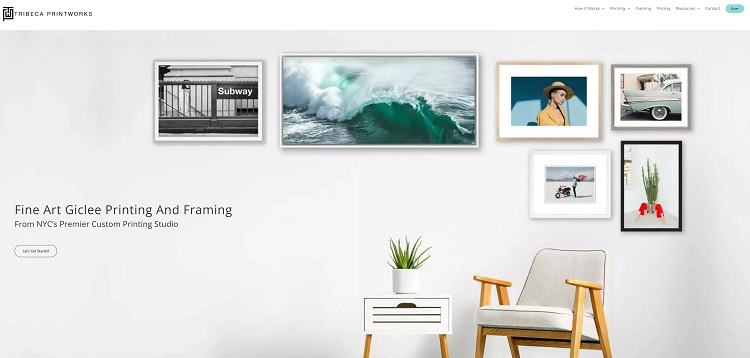 Source: https://www.tribecaprintworks.com
Tribeca Printworks used clean simple lines to create a minimalistic design. Note how the frames have straight edges, the wall is a simple white with a few subtle shadows. Even the chair and table have very simple lines without curves or geometric shapes.
4. Simplicity
Another element of minimalist design is going with what is simple. Choose flat icons, single color text and even a font that isn't extremely decorative. The sharp, clean edges of a sans serif font work particularly well with this style.
When choosing images to include in your design, go with ones that stick to a single color scheme. You don't want a rainbow exploding on your beautiful, clean page.
5. Singular Focus
Minimalism doesn't try to be everything to everyone. Figure out what your message is and who your target audience is. Hone in on a singular focus and make sure every element on the page points back to your primary goal.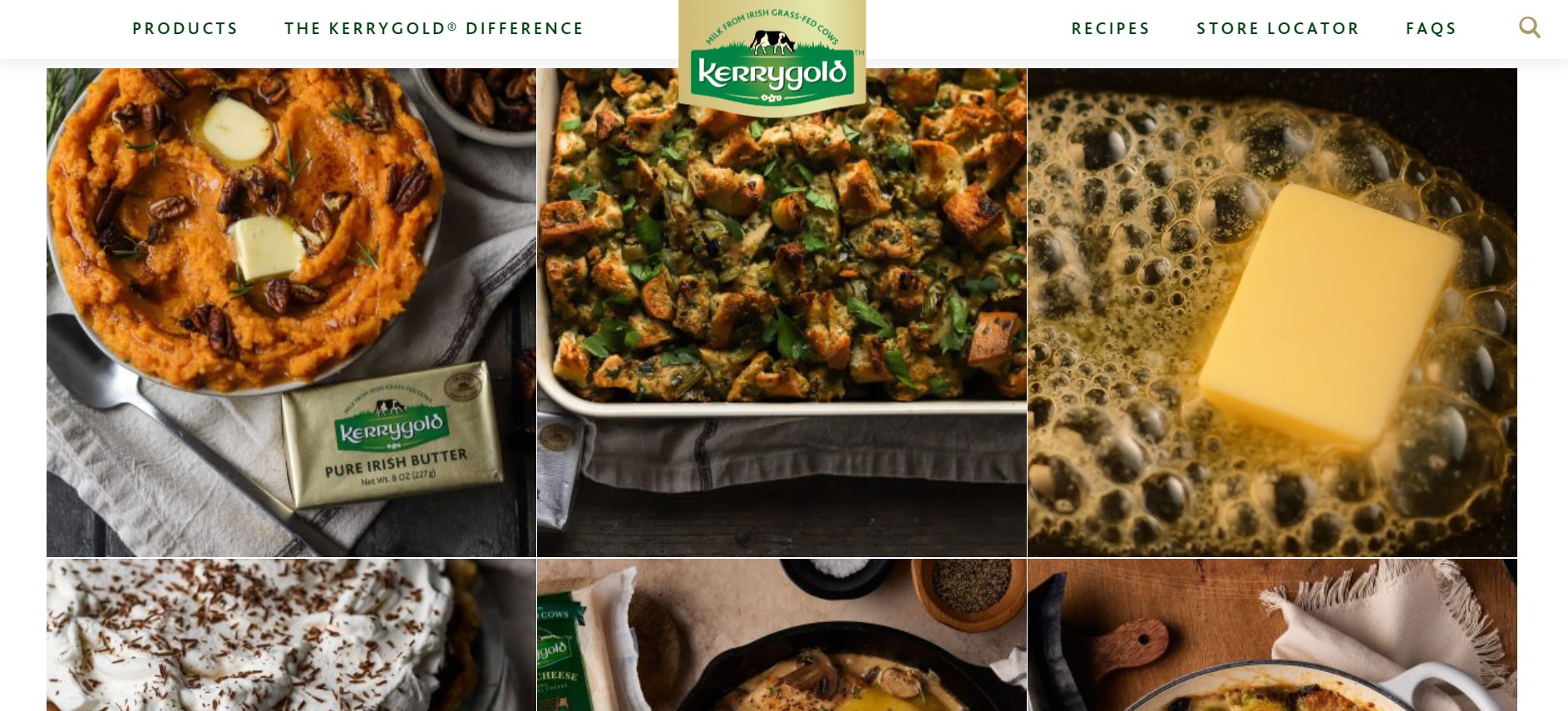 Source: https://www.kerrygoldusa.com
If you've ever tasted the simple, deliciousness of Kerrygold butter, then you'll appreciate their minimalist web design. Everything is laid out on a grid except for the logo, which layers over top of the header and body of the page.
As you hover over each image, you'll see a popup of the ingredients. The text is a simple sans serif in one color on a white semi-transparent background.
6. Symmetry
If you want to take your minimalist designs to another level, think about how each feature on the website works together as a whole. Not only should your users find it easy to move through the buyer's journey but they should almost be able to predict what is going to happen next.
You'll find symmetry in the style of each photography you choose to include, in the size, color and font used for H1 and H2 headers and even in the tone of your site. Everything should mesh into a cohesive whole.
Ask for Feedback
How can you ensure your site is as minimalistic as possible? Start by going through the points above. Next, ask for feedback from your users. Is there anything on your site that they don't understand or seems out of place? Finally, get feedback from experts in the industry. Is there anything you should cut to make your site more functional?
Guest blog written by Eleanor Hecks is the EIC of Designerly. She's also a web design consultant with a focus on user experience and style guides. She lives in Philadelphia with her husband and golden doodles, Bear and Lucy. Connect with her about marketing, design and/or tea on LinkedIn.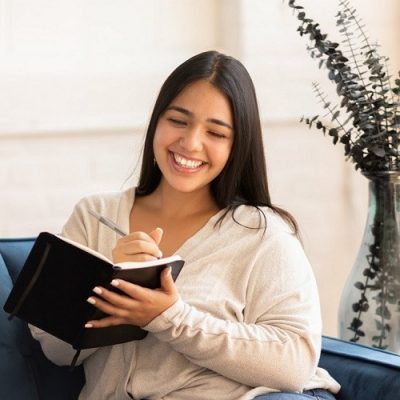 Access by Design.
Beautiful, accessible, web design Chichester

Always delivering an outstanding accessibility audit
What emotions do you feel when you hear the words "Accessibility Audit?"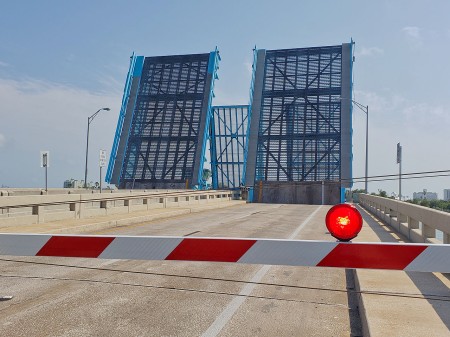 What do you feel?
Anxiety?
Fear?
Relief?
It is a challenging question. I had never realised just how challenging it could be.
Sometimes the drawbridge goes up, defences are erected, and fingers get put into ears.
"The website is about to be redesigned anyway".
It is amazing how many times I hear that phrase but, after all, that is the nature of web design is it not? Always evolving, always changing.
The problem is that over 96% of the top 1 million websites this year failed basic accessibility tests.
Not complicated or obscure tests.
Basic ones.
So perhaps the new website might have accessibility issues as well?
A chat with me could prove to be extremely valuable if:
You are thinking of getting your website redesigned and want to know what to specify in your brief
You are trying to decide which web design agency to go with and want some impartial advice regarding the accessibility of other websites they have previously created
You have got some wireframes or static designs and want feedback on potential accessibility issues
You have some basic templates built that you would like tested by my team
You want to know about the accessibility of your current website
You want some feedback on a new design or feature
Very few of these require a full accessibility audit, and just having my advice could save you a lot of money in the long run.
My role is to encourage, support, train and nurture.
Maybe there is another phrase I could use instead of "Accessibility Audit" that does not create barriers?
I am very open to suggestions!
Caption: A double drawbridge opened up. There is a barrier gate down in front of it and the red light is on.
Accessible Websites, Beautifully Designed
Outstanding Website Accessibility Audits
Award-winning web design, Chichester
Where Will Web Design Be 1 Year From Now?
Technology is advancing with each passing day in the 21st century. The internet has
become an essential part of our lives. Whether you need to order food, book a flight, or
count your steps, the internet is what you reach out for. Web design is an integral element of
the internet, which is why its future is considered bright. There have been many
advancements in artificial intelligence. Virtual reality has progressed thanks to the efforts of
Metaverse. Web design trends have become global and many new trends are expected to
rule the World Wide Web in a year's time.
Immersive 3D Worlds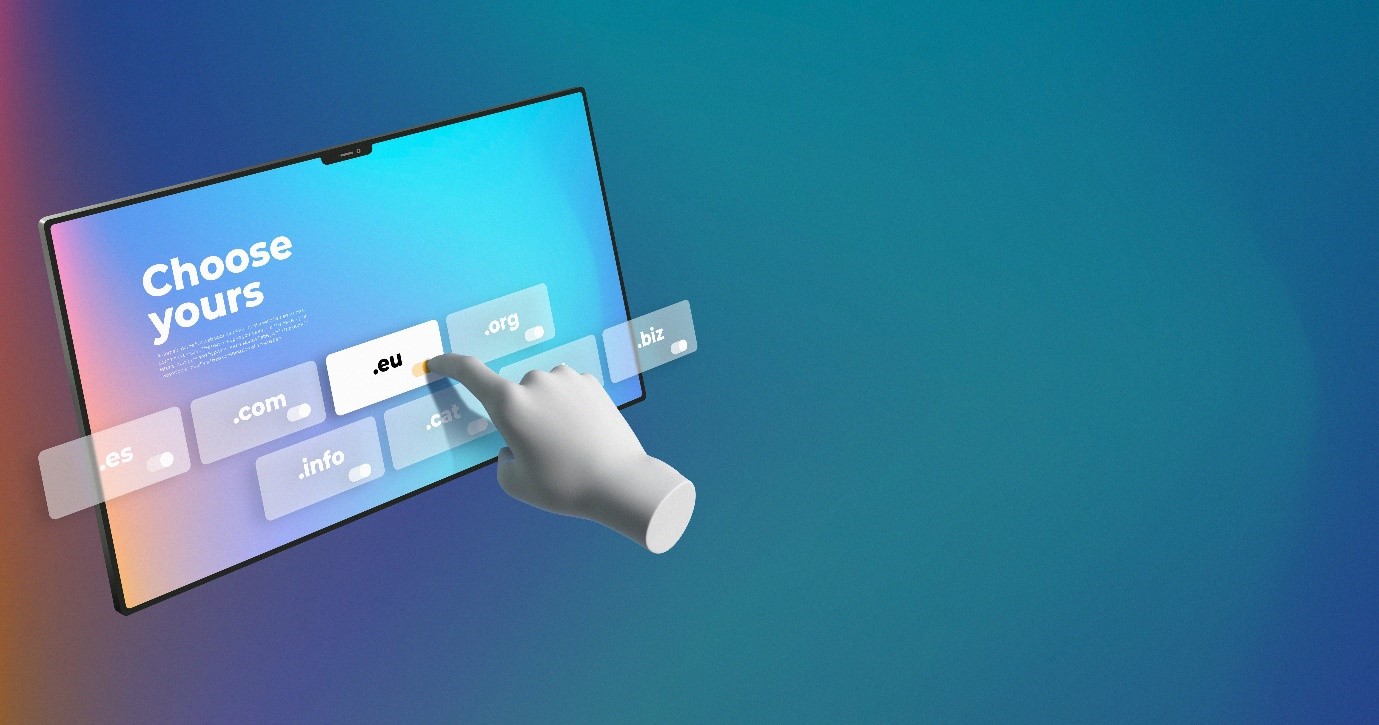 Many websites have been creating immersive scrolling experiences to pull more viewers to
their websites. As VR has become more dominant, completely immersive websites have
also been developed. Immersion gimmicks have been there for a while now. However, it is
expected that the users will be taken on a journey through the digital space with the help of a
craning camera and subtle music will be played when websites are loaded (with the
permission of the viewer) for a rounded experience. Even 3D logo designs will become more
popular due to their extra dimension which grabs attention.
Advanced logo design characteristics or logo design elements will be incorporated to achieve
the success of immersive 3D designs.
This stylistic website trend is expected to dominate web design and win over more realistic
websites. The imaginative and escapist nature of these websites is what makes them
appealing to the viewer. The reliance on the call-to-action button for conversion will decrease
with time and the overall visual experience will be trusted to leave a lasting mark on the
viewers. It would take a lot of effort to pull off but the revolutionary thought behind it will
make it attractive to all.
Digital Maximalism
The idea of "less is more" which has become more popular in the recent past is expected to
be refuted completely by designers. In a year's time, it can be expected that designers will
rebel against minimalist designs and go for complete overstimulation. This means that
designers would completely deny the use of white spaces and instead, aim for customizing
every single element on a webpage. From animated foregrounds and backgrounds to
flashing images and bursts of colors, all elements of a maximalist design structure will be
adopted and appreciated.
Instead of making things simpler and easier for the viewer, quirky and detailed designs will
be used to heighten entertainment for users and increase their engagement as a result. Use
experience will be prioritized over user accessibility.
Dark Mode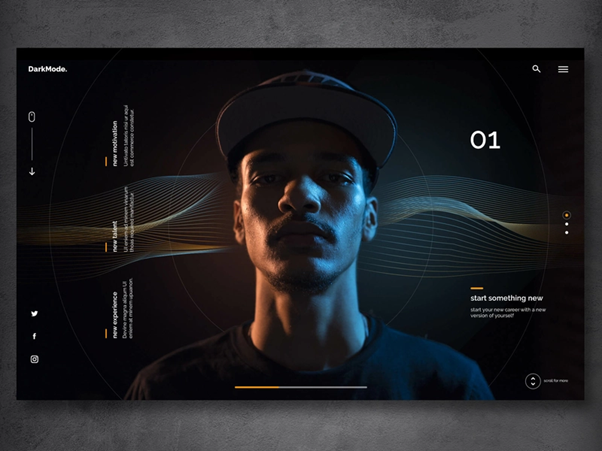 Dark mode can be considered the future of web design. Dark mode is considered ideal by
many designers for making any website stand out amongst others. The perfect high-contrast
backdrop is expected to rule the internet and more specifically, website design within a year.
There are several reasons that dark mode is being embraced by more designers. The first
one is the ease it provides to the users as it reduces eye strain which is a common concern
of many users. Websites have been using the dark mode to allow users to engage with their
content more comfortably. Secondly, an ultra-modern look is created by the dark mode that
can add to the aesthetics of the web design. Another important reason is that it allows
designers to highlight other design elements by darkening everything around them.
Scrapbook Aesthetic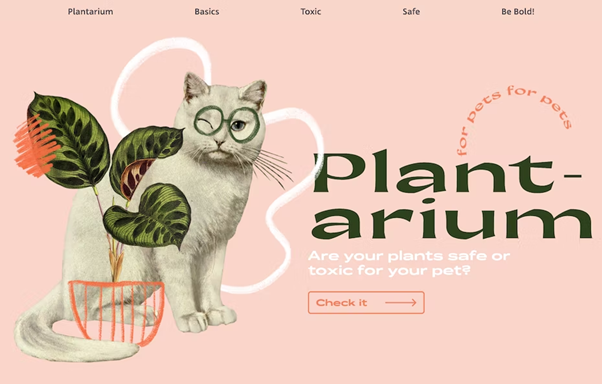 The old-school scrapbook aesthetic is expected to make a great comeback in the world of
web design. The desire to reclaim the natural world will bring this style back in trend as it
combines elements of the physical world with the digital world for a more interesting user
experience.
These web pages will include hard-written lettering, collages, and sticker graphics to evoke
the feeling of turning the pages of a school zine. By instilling this sense of intimacy in web
design, viewers will be engaged more deeply with the digital world and their attention will be
grabbed. This will not compromise on the importance of more high-tech trends but will simply
link them to the real world.
Conclusion
While these are certainly important changes that are expected to determine the future of web
design, they will be completely altered by Artificial Intelligence and Machine Learning.
Unique website navigation styles and domination of 3D design will take over the world of
websites. The rebranding will also occur in a year and it will be approached differently by
each business and designer. One thing that will determine the overall revolution in web
design is the global nature of these expected design changes.
Guest Blog written by Dylan McKenzie.
He is best known for his expertise in digital media, he can write on diverse topics including branding, social media, design, and content marketing. Connect with him for your content needs.
Access by Design.
Accessible Websites, Beautifully Designed
Outstanding Website Accessibility Audits
Award-winning web design, Chichester
Here is why you should consider website accessibility from the beginning!
Starting a new development
I have just started consulting on a new project. It is the development of a search tool from one of the UK's regional parliaments. This tool is to replace the one that is already there, which is rather old and not at all accessible for disabled people.
The emphasis from the client has been that they wanted accessibility to be at the forefront of the development of this new tool so my initial meeting with the developers was before anything had been designed at all.
Analysis of previous tools
We looked at the existing tool and then at tools that were on the other parliament websites. I was able to show the developers the strengths and (mostly) weaknesses that were apparent and give guidance on the sort of functionality to include that did not exist on the other tools.
I have to say it was one of the most productive meetings I have ever had! It is up to the developers to design it as they prefer. I will never make a comment on how something looks aesthetically, I will only ever comment from an accessibility point of view.
Function over form
For me, it is always about how a tool functions. People have many different types of disabilities: visual, physical, cognitive and it can be a challenge to strike a balance between them all.
One of the great things about having a meeting at this stage was the fact we could take a step back and look at what the journey was going to be like for disabled people. There are so, so many possible permutations and options that, no matter how well coded, it was not going to be possible to make it fully accessible. It is akin to trying to explain a very complex graph to someone who is visually impaired.
An inclusive, alternative approach
It became readily apparent that two versions of this tool would be needed. A simple search and a complex search. The simple search would allow any visitor to get information quickly in an accessible format whilst the complex search would allow anyone to choose from literally hundreds of different possible combinations.
Taking this approach ensures that both the needs of disabled people and people requiring more complex searches, such as researchers, are met.
The entire process took one hour and has set the project on a firm footing. The tool will, I hope, then set the standard for the other ones to follow.
Getting it right from the beginning
It has been brilliant to be involved in a project from the outset! I know there will be fewer challenges, very little remedial and a great experience with my amazing audit team!
Accessible Websites, Beautifully Designed
Outstanding Website Accessibility Audits
Award-winning web design, Chichester